Digital security industry's premier association
The Alliance brings together leading providers and adopters of end-to-end security solutions designed to protect privacy and digital assets in a variety of vertical markets. Learn More.
Featured Item:
The Answer to Digital Trust Is Already Here
How do you trust someone you don't know, can't see, and isn't actually in front of you? That was the question raised in an article I read recently on establishing a system for trust in the digital world. It got me thinking about what's missing from the modern marketplace that is challenging potential users like me to have a trusted relationship with service providers, such as my New York Times electronic-only subscription, when they don't know me, can't see me, and are not present when I make a transaction. I have the answer! Read my letter this month to learn more.

Make an Impact as a Member
The Alliance is driven by its U.S.-focused member companies. Through participation in the breadth of Alliance activities, members strengthen personal and organizational networks and members take away the insights to build the business strategies needed to commercialize secure products and services in this dynamic environment.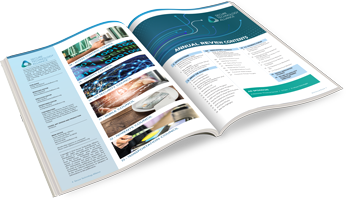 IT'S HERE! 2018 Annual Review
The 2018 Annual Review has just been published. Take a few minutes to check out this comprehensive look at the past year's activities and highlights. From event photos to council deliverables, the publication features the resources, survey findings, website stats and all the information member companies look to the Alliance to provide.
Secure Technology Alliance industry events provide deep insights and a roadmap to the future direction of secure solutions in the digital security industry. Learn More.
Featured
Implementing PIV Credentials with Physical Access Control Systems
Learn about implementing essential NIST SP 800-116 R1 requirements in physical access control systems.

Read Alliance resources to get accurate, objective analysis on what is happening in the digital security industry, why, and what the best practices are for moving forward. Available resources include white papers, FAQs, infographics, perspectives, position papers, webinars and more.

The Alliance helps train people to manage and develop more secure solutions across a variety of technologies and solutions through providing training programs to members and non-members, including workshops, educational courses, certification preparation, briefings and symposiums.
Security in the IoT Ecosystem
Listen to the webinar series on best practices for protecting data and securing IoT devices throughout the entire IoT ecosystem.
Affiliated Organizations and Websites