Digital security industry's premier association
The Alliance brings together leading providers and adopters of end-to-end security solutions designed to protect privacy and digital assets in a variety of vertical markets. Learn More.
Featured Item:
Mobile Wallets: Yesterday's News
The Alliance has been focused for years on the phone side of the mobile wallet. Quietly, the real revolution is the digital payments ecosystem that the phone has unleashed into the world. The building blocks that began with smart phones with the first NFC chips, then the secure elements, then tokenization, then biometrics authentication, and now omni-channel payments processing, have brought this digital commerce market to a whole new dimension. I write about this in my letter this quarter; you can read it here.

Make an Impact as a Member
The Alliance is driven by its U.S.-focused member companies. Through participation in the breadth of Alliance activities, members strengthen personal and organizational networks and members take away the insights to build the business strategies needed to commercialize secure products and services in this dynamic environment.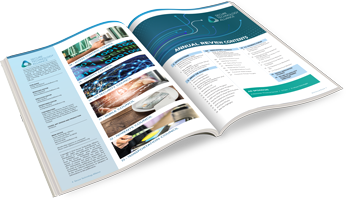 IT'S HERE! 2018 Annual Review
The 2018 Annual Review has just been published. Take a few minutes to check out this comprehensive look at the past year's activities and highlights. From event photos to council deliverables, the publication features the resources, survey findings, website stats and all the information member companies look to the Alliance to provide.
Secure Technology Alliance industry events provide deep insights and a roadmap to the future direction of secure solutions in the digital security industry. Learn More.
Featured
Learn about biometric payment cards that incorporate fingerprint capture, template storage, and matching on the payment card itself.

Read Alliance resources to get accurate, objective analysis on what is happening in the digital security industry, why, and what the best practices are for moving forward. Available resources include white papers, FAQs, infographics, perspectives, position papers, webinars and more.

The Alliance helps train people to manage and develop more secure solutions across a variety of technologies and solutions through providing training programs to members and non-members, including workshops, educational courses, certification preparation, briefings and symposiums.
Identity on a Mobile Device: Mobile Identity Proofing in Higher Education and Airport Passenger Experience
Learn about innovative use cases for mobile identity in higher education and airports.
Affiliated Organizations and Websites